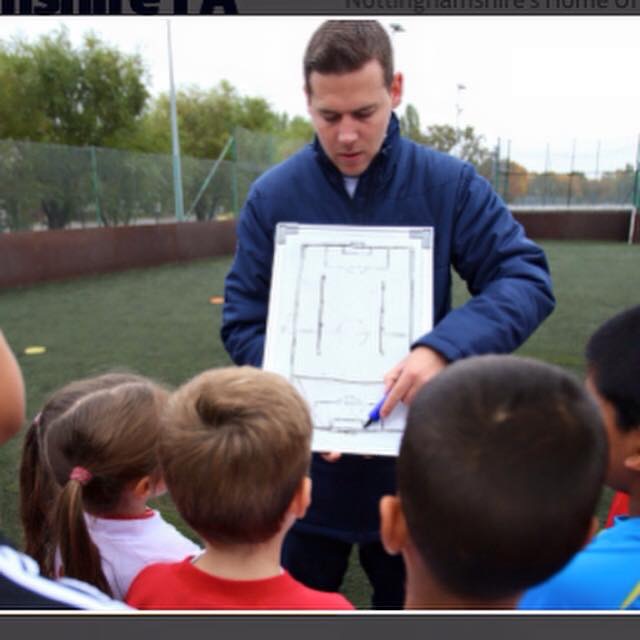 Let me formally introduce myself, My name is Matthew Collins, a UEFA B licensed coach and proud founder of SportingYOU.
As a coach of many years myself I wanted to share with you my own coaching journey, experiences so far and where the idea of SportingYOU came from.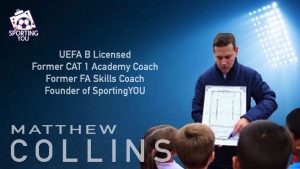 MY COACHING JOURNEY
I have to go back to the age of 14 when my first real coaching experience came to me, It was a Saturday morning and I initially went along with my Dad to help him out at our local football club, Cavaliers FC.
At the time I was only putting out cones and reiterating what my Dad was saying to players here and there, but that was enough for me to get hooked on coaching! I loved the idea of supporting others, providing them new skills and seeing that development under your stewardship.
As the years went on supporting my Dad, my knowledge & confidence was growing and I started to deliver sessions on my own and to other teams within the club. However, still at a young age I was determined to make a half decent career in playing football, I still had that dream and thinking I could be one of those late developers, but in the end it never materialised and non-league football was the best I could achieve.
EXPERIENCE & VARIETY
By my college years and the realisation dawning on me that non-league was the best level of football I could achieve, I started to really focus on the coaching aspect of the game.
Completing my Level 2 football coaching qualification in college and later a qualification in Sport Science, I got my first paid coaching role towards the end of my college period, A part time role at Derby County Football in the Community (now known as Derby County Community Trust), who provided me with an opportunity to coach 5-11 year olds at their weekend club and half term courses.
It was great, getting paid to help develop children in football.
I spent a good number of years at FITC and met some fantastic people/coaches, with some I still speak to now, The variety I got there especially very early on in my coaching journey was just the solid foundation I needed and one I recommend to other coaches.
After coaching at FITC I was still playing for Graham St Prims FC, but I was also delivering sessions for them. I totally came out my comfort zone…young coach, still a player, delivering sessions for senior players and my teammates, To this day I'm still grateful for them for believing in my skills and ability to coach.
I also had 2 seasons with Derby County Ladies FC with their U15/16's. This was my first real experience coaching in the female game, What a fantastic club and environment to be around, After I left there I didn't realise that one day I would make a return as a 1st team coach.
But, it was in August of 2010 when I got the ultimate opportunity, to coach football on a full time basis. After a gruelling interview process I was one of a lucky few that managed to get a job at The FA working on their 'FA Tesco Skills Programme', The programme's aim was to deliver free football sessions within schools, local grassroots clubs and a coach mentoring approach with grassroots and after school 'Skill Centres'.
It was this period where I felt my personal development and values as a coach progressed and took me to that next level, Within the 5 years at The FA I completed my FA Youth Award Level 1 to 3, UEFA B license, GTT (Generic Tutoring Training), Intro to Futsal and much more, I was also very lucky to have access and exposure to regular CPD events with Local, Regional and National coaches, all who were coaching at the top of their profession.
My time at The FA also lent me the opportunity to coach the Derbyshire County FA Representative Team at under 18's level. This added another invaluable experience to my coaching locker, working with teenagers after several years working with 5-11 year olds.
After just over 5 unforgettable years at The FA, unfortunately due to circumstances my time as a 'full time coach' came to an end with me moving back into the utilities sector to maintain an income for my family.
The transition was difficult to take and to ensure I kept my hand on coaching I moved into senior non-league football, with notable spells at Holbrook Sports FC and Belper United FC, all Derbyshire based clubs. If I'm honest…I quite enjoyed coaching at that level because I got the freedom to play around with my philosophy and coaching styles, especially when I was manager at Belper United FC, On the contrary to what some think, I strongly believe that you can imprint your style of play at this level. With the right recruitment and a group of players who are willing to learn, like I found at Belper United, players can adapt. However, the planning of the training sessions have to be more catered to your philosophy and style, make sure players see that within the sessions.
In between senior and kids coaching I had the opportunity to rejoin my good friend Samantha Griffiths and make a return to Derby County Ladies FC where I became 1st team coach, This was another invaluable experience for me, having spent a number of years coaching seniors mens football, I thought it would further my education more. Unfortunately, my time at DCLFC was cut shorter than I had liked, as I had the opportunity to coach at Derby County FC within their category one status Academy.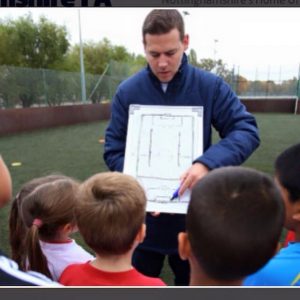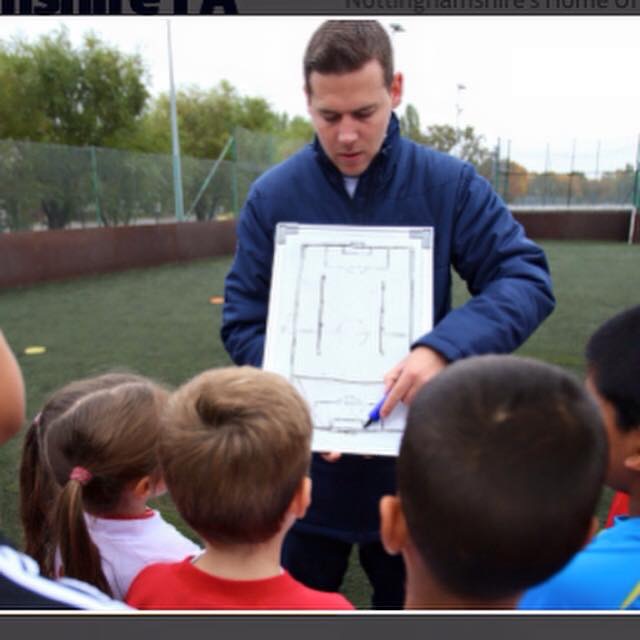 Two and half years coaching part time and like other pervious roles this was another invaluable experience for me, To coach at the elite level of coaching football between the ages of 8-16. To be honest, when I first started I was initially shocked by the demand due to the of level of detail needed in the reflection, analysis & planning. However, an incredible environment to be around and like The FA it exposed me to something new.
I was lucky enough to travel on two tours with the club, Holland and Ireland, working along side the best coaches within the region, One aspect of the role that I took away was the match/training analysis, I didn't realise the importance and how powerful videoing a match or training session can be and then presenting that to players, This did shape my planning, I got a better understanding where my focus needed to be and who with, whether that's individuals or units and also highlighted any trends, wether positive or negative.
REFLECTION
As you've read, I've had quite a journey so far. I feel very lucky to have experienced so much at just 33 years old, After my time at DCFC I wanted to step back, take a break, reflect on many years of coaching and try to understand what I want for the future.
I'm 6 months into my 'break' now and I've really enjoyed the time away. I've managed to watch a number of games across all levels, coached the odd session here and there, but more importantly I've spent some quality time with my son, who's 7 and just started playing football for a team for the first time.
With no pressures of regular planning or delivery and all the downtime, I still had this idea rattling inside my head….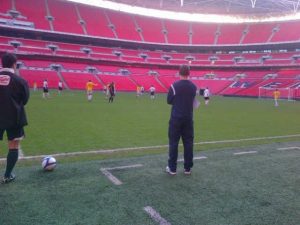 SportingYOU COACHING APP
Since leaving The FA back in 2015 I've had this idea rattling inside my head of being able to provide coaches an easy accessible App where if circumstances change IE number of players attending or it's just been a busy/bad day and a coach hasn't had time to plan, the App could provide a bank of ready made sessions catered to the coach's needs, and all at the press of a few buttons on there phone.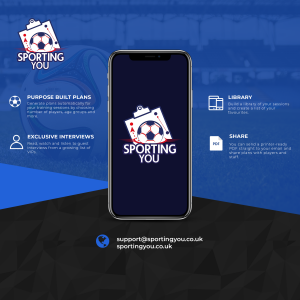 Imagine a part time coach, or volunteer coach, struggling to find time to plan a session, or keep getting messages to say players are dropping out….that frustration of not knowing what to deliver. SportingYOU was then created, a coach can select the players they have available, theme they want to deliver and bang! the App would provide a bank of sessions there and then.
Well that dream became reality in September 2019 after meeting an App developer.
After several months in build we're not far off completion and launching the App. We're awaiting some finer details from the App stores and making some minor tweaks within the App so that the experience is fantastic to all that use it.
I can't describe the excitement you feel when something you've had in your head for the last 5/6/7 years come to fruition. Equally, it's very nerving as your always wondering what the perception might be….is it going to be good? Do coaches get the point of it? It is easy to use?
I strongly believe in the concept and the brand, I feel we built an App that will support coaches in a whole new way. The name SportingYOU was designed after the phase 'supporting you'.
---
Well in summary that's my coaching journey and how the SportingYOU App came to life. I really hope you guys download the App and enjoy it. Please keep touch with us as we have lots of interviews coming up, we've already announced Samantha Griffiths (Derby County Ladies Manager & FA Regional Coach Mentor) and John Bitting (MK Dons Academy Youth Development Phase Coach) and we have plenty more in the pipeline.
Please feel free to contact me, I'm always happy to support coaches and clubs where possible: matt.collins@sportingyou.co.uk
Thank you for taking the time to read this.
Matt