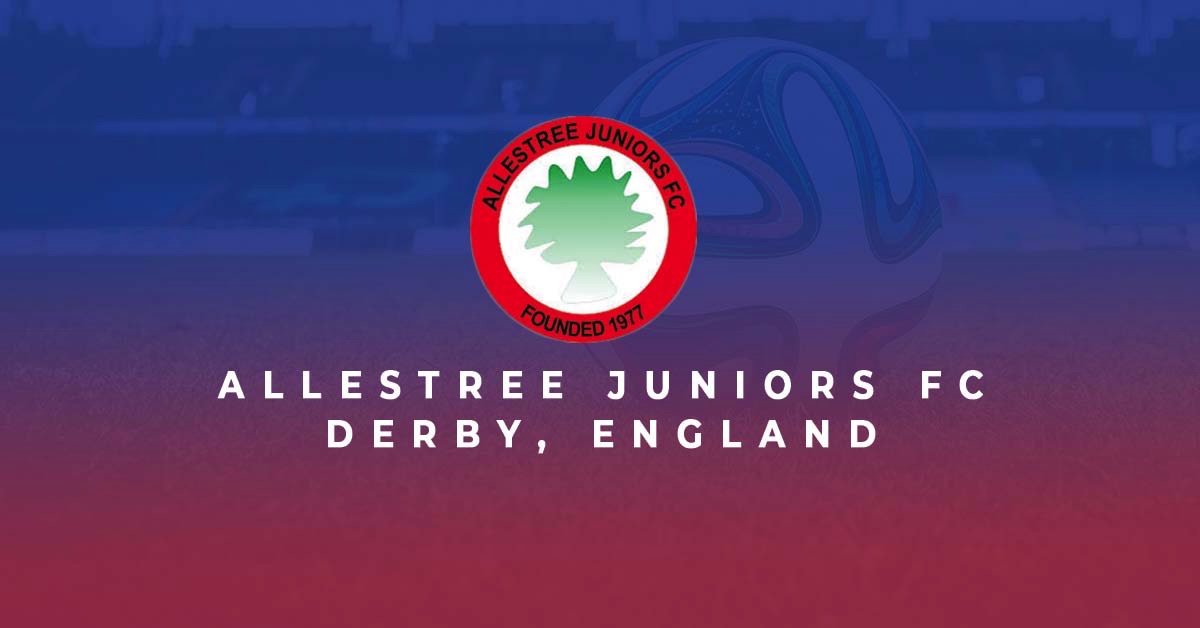 Allestree Juniors Football Club
Founded in 1977 – founded with just 1 team
32 teams (350 players)
U7's – U18's
Based in the north west of Derby City in England, Allestree Juniors was founded in 1977 with just one team. Playing in their very distinctive all red strip (shirts, shorts and socks), over the years the club have grown year on year making them one of the biggest grass roots club in Derbyshire. AJFC have had representation from U7s up to U21s in all formats across the Derby leagues. In 2003 all the clubs efforts and hard work was rewarded when they became an F.A Charter Standard Development Club in which they are extremely proud of and continue to maintain this prestigious accolade to this day. As standard procedure of a Development Club, all coaches with the club are trained in safe guarding, DBS checked, First Aid qualified and at least hold an FA Level 1 award.
The growth of the club is lead by the club's Chair and Secretary, Tony Harvey and Claire Brandon. who constantly drive the club forward and both are very open to new ideas, such as the Mentor initiative from the F.A. Imbedded with a good community in Allestree the club represents the local area with pride in which attracts more players to the club every year.
Values & Ethos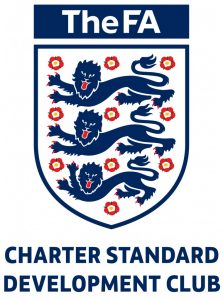 The success of any sporting club on or off the pitch can rely on its values & ethos and Allestree Juniors FC have built a strong foundation in which runs straight through the club. They enforce a strong policy around its inclusion for all irrespective of ability, gender or race; ensuring that equality and fair time for all its players, especially those at foundation stage.
All sessions and match days are delivered in a safe environment for players, an environment where positive encouragement is displayed throughout and a no win at all costs mentality, especially those at foundation stage. Allestree Juniors FC prides itself on the development of players as priority over the result, allowing mistakes as an opportunity to learn and importantly showing maximum respect shown in winning and losing.
Above all else, the club wants all involved from the players, coaches, committee and parents to have a positive experience and have fun!
As club ambitions go, Allestree Juniors FC have one main ambition and that's to provide football for all with the most positive experience. Irrespective of any accolades or successes on the field they want to provide football to anyone that wants to play the game so that when players eventually move on from AJFC they can look back at their early football life in a positive and enjoyable way.
Internal Coach Mentoring
With 32 teams and 350 players actively playing within Allestree Juniors FC support for the coaches and ensuring that the clubs values and ethos are being adhere too, they took advantage of the F.A's Coach Mentoring initiative where they were assigned a Coach Mentor, for this area it was Earl Taylor. "He (Earl Taylor) opened our eyes to how we could possibly support our coaches more, but more importantly that we needed a club philosophy for coaches, players and parents to adopt" explains Will Meredith from AJFC. "Previously some coaches would go off and do their own thing, adopt the win at all costs attitude resulting in leaving players out as deemed not good enough and being competitive in non-competitive leagues". Adopting a new club philosophy, Will Meredith and Shaun Taylor were installed as the clubs new internal Coach Mentors to support and roll out the new philosophy which would see them concentrate on the new coaches that come into the club.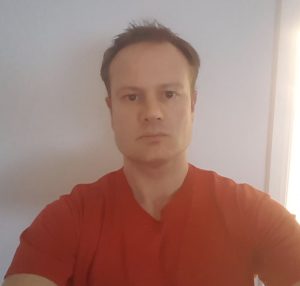 "Particular focus was around the club's mini soccer school which ran each spring for 12 weeks.  This is for the new intake of players starting the next season at U7's, so we decided to implement our plan here" explains Will.
"We created a massive sign that is placed at the registration desk displaying our philosophy. We placed motivational posters all around the pitches effectively supporting our philosophy, quotes such as from likes of Ronaldo for the players and from Cruyff for the parents/guardians. This is a subliminal message to parents, players and future coaches. We wanted to set the scene from the beginning. We issues leaflets outlining the clubs philosophy and encouraging parents to explore the possibility of being a coach".
The club have also focused on what they can do with parents/guardians. Make sure they're involved as much as the players are, it's an experience for all. Will tells us that at around week 4 of the mini soccer cycle they get all the parents together to talk through the clubs approach and explain the support possible coaches would receive with the internal mentoring programme that him (Will) and Shaun Taylor do. "We explain to the parents/guardians that if there is a win at all costs type of mentality then Allestree Juniors is not the club for them".
Allestree's view is around week 8 the positive experience so far with the club lends them the opportunity to ask for those parents/guardians that want to explore coaching football to come onto the pitch with one of the current coaches and help support with the session delivery.
Will explains that towards the end of the 12 week period each team is usually assigned coach by now. "We have a meeting with all new coaches and issue them our mentor's handbook and talk them through the approach and best practice and support they'll receive". "The handbook aims to provide all new coaches with the information and help to begin their journey as a coach. Each coach will take their F.A Level 1 Coaching qualification over their first season", this is to comply with F.A Charter Standard Development Club rules.
The club also encourage the coaches to create a team charter that outlines the approach they will take, as well outlining the players, coaches and parent promise. The use of technology is a great way of connecting with people and WhatsApp groups with the coaches are created so that all relevant communication is distributed. Along with this, each team is assigned a coach mentor, who provide that 'go to' at any time for help, support or any advice.
"We are now at the end of our second year of this approach and it's been well received by all coaches, parents and players. We now have four internal coach mentors who actively support the club and coaches in particular".
Will continues, "we've gained some fantastic coaches at U7's and U8's that have adopted our philosophy and as a result gathered together a lovely team of well spirited players and positive parents/guardians. Allestree Juniors FC is exceptionally proud of these coaches who have trail blazed with the approach and, at times, taken the higher ground against some aggressive opposition coaches, this has been praised by the referees on how well behaved AJFC players are and are a credit to the club".
This innovative method used by Allestree Juniors FC has, in Will's view, no doubt that as the coaches move up the ages this approach will benefit all involved enormously, "we acknowledge that some of the older age group the coaches are possibly set in their approach and it possibly would be a challenge to change their approach, however starting at the beginning of the coaches journey was deemed a more effective approach".
Coaching Syllabus
At their 12 week mini soccer training each week is delivered based on a theme, such as dribbling and keeping the ball. Allestree Juniors FC are fully into the 10,000 hours (deliberate practice) by encouraging and promoting ball rolling time so that players can practice the basic skills of football constantly. For example, for the new players to the club, or to football in Bernal, they emphasis on staying on the ball to start and get players to love having the ball. Resource is provided to ensure that every player within any session has access to a ball at all times. Sessions normally conclude with age appropriate games where possible, after all that's what the players are there for.
Session plans are also supplied the coaches with age appropriate sessions, such as: find a friend and robin hood, which are two favourite Level 1 games.
As part of Will's role within the club he makes himself available to attend sessions and observe other coaches within the club, "I've been to observe some of the coaches and they have designed their own sessions and really showing some fantastic skills". "During the Coronavirus pandemic many of our coaches have sent me videos of what they have done for their players to keep them engaged, active and learning new or practicing existing skills. It's absolutely fantastic to see".
Challenges ahead
A club that adopts a philosophy or an approach will always face challenges such as those that have a win at all costs mentality or replacing a more developed player with a lesser developed player due to the equal and fair game time approach they have installed.
"Since implementing our philosophy/approach at the mini soccer schools we have noticed a positive change in the parents/guardians. We've seen more positive and encouragement comments off them and you can see the different in styles compared to other teams we come across" Will explains. "One challenge every mixed ability team has is the disruptive player(s), but at AJFC our Welfare Officer along with the Coach Mentor's ensure that support is there for the coaches and show them different types of techniques and approaches when working with players who can disrupt a session or match".
Lastly, like any other club there are faced with financial pressures every year, more so during the Coronavirus pandemic. Allestree Juniors FC are a non-profit making organisation and constantly look for funding to support their development and growth.
Openness to support others
The club are located to the nearby University and have facilitated several University students over the past few years to obtain experience in coaching or helping out to allocated teams. The club have also had a student from Loughborough University, a former AJFC player, who is on a 40 hour "work placement" in delivering sessions; again add more evidence that the experience within the club is a vital part as he's come back to carry out his work experience with the club.
In recent times another new avenue Allestree Juniors FC are exploring is Futsal. They are actively trying to get Futsal into the coaching programme across the club. Investing and up skilling a coach to Level 2 in Futsal and several other coaches to Level 1 in Futsal they have several teams playing in both the Derby junior Futsal League and Chesterfields Futsal League. They see Futsal as both a fantastic development tool, as well as a brilliant game in its own right.
---
To find out more about Allestree Juniors FC or about their journey please contact Will Meredith on wmeredith@totalise.co.uk