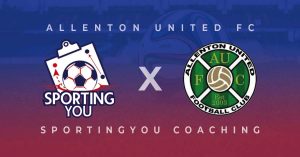 SportingYOU Coaching are delighted to announce that we will be supporting with Derby City based side Allenton United FC Under 15's.
The side managed by Ash Delaney, SportingYOU will work with Ash to support both the team and individual player development.
Matt Collins of SportingYOU cannot wait to get started, "I'm really looking forward to working with Ash and in particular his U15's side. It's such a good age to work with and I hope the players are as keen as me to get started".
Of course, this support won't start until the Coronavirus pandemic has past and the Government has lifted the restrictions and football can resume.
---
Allenton United Football Club was formed in 2003 with just one team. Fast forward into 2020 and the club now has 12 active teams, both male and female, competing across Derbyshire.
Find out more about AUFC, please visit their website: www.allentonunitedfc.co.uk or email them @ allentonunitedfc@hotmail.com